Cosmo UK Interview: Jessica Lowndes spills her beauty secrets!
Posted on September 20, 2013 in Lifestyle, Fashion, Interviews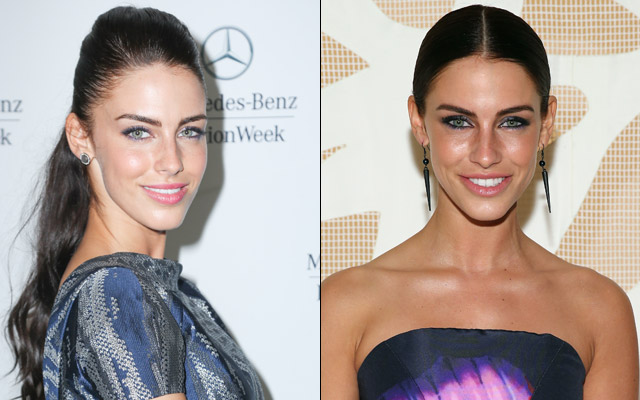 Jessica Lowndes, the impressively coiffed, foxily formed, sweet smiling Canadian actress of 90210 fame has bagged herself a beauty gig as the first celebrity face of Lipsy's fragrance. So what's her secret? She shares her LA hair and beauty tips with Cosmo – and reveals the dedication behind her incredible figure. Meet our new BFF…
How did your collaboration with Lipsy come about?
I've been a huge fan of Lipsy for years and I've worn their dresses on red carpets and nights out, so when they asked me to front the new fragrance campaign I was so glad. It's such an honour to be the first celebrity face of the scent – they sent it over and it smells delicious.
What's the Lipsy London Glam fragrance like?
It's got gorgeous scents of apricot and cherry, but it also has jasmine and black incense which makes it romantic and sexy, so you can wear it during the day or the night. For me – and I know that scent is entirely subjective – but I love things that smell sweet, and I think it has this beautiful, romantic undertones.
What are your favourite beauty products?
This is my new favourite, but I am a huge fan of Laura Mercier products – she makes great body butters and scrubs. I love the almond and coconut scent and the pistachio scent.
We loved the Twitter picture you posted from the Lipsy shoot; have you got any tips about posing for the camera?
It's all about being comfortable in your own skin. Every girl loves dressing up and to rock gowns like that… it instantly makes you feel sexy and confident.
Your hair looks gorgeous in that picture, what products do you use to make your hair so shiny?
I'm a huge fan of Kerastase products, they have great moisture masks for your hair – I'm all about conditioning, because I'm always getting my hair styled on shoots or on set, so it's really important to take care of it. I also love Unite's leave-in conditioner – with long hair, it gets tangled so easily and it makes really smooth and shiny.
Do you have your hair cut regularly?
I'm growing it out at the moment, but I think it's important to trim it because then it grows back healthier.
Do you always visit the same hairdresser?
I've been fortunate enough to have had my hair cut on set for the last five years, and we had an amazing hair and makeup team, so I would get my hair cut there, but I switch it up. I visit the Warren Tricomi salon in Los Angeles a lot.
Have you ever experimented with other hair colours?
Not really – I'm a natural brunette, so I usually just stick with that, but if a role called for it I would in a heartbeat.
What are your favourite makeup looks?
I definitely love the smoky eye, and when I do that I like to do a nude lip so it draws attention to your eyes. If I was going to do a pop of colour on the lip, I try to keep the eyes very minimal, just a bit of mascara and eye liner. I choose different parts to accentuate so it's not too much.
What makeup can't you live without?
I love Chanel mascara and foundation; the YSL concealer is great and it's a good highlighter under the eyes. I love Benefit's Hoola, which is great for bronzer and contour.
What tricks have you picked up from makeup artists?
Less is more; washing your brushes is a big one; and always use a fresh sponge if you're putting on foundation – it's important to keep your skin healthy.
Do your makeup yourself?
Yes most of the time – I love doing it, it's a way of expressing myself and it's fun for me.
What do you do for an instant confidence boost?
I love pampering myself, so going for a massage or getting a mani-pedi makes me feel instantly better. When my nails are done I feel so much better – it's the little things that make me so happy, and you literally feel polished.
You've also got an incredible figure. How do you stay in shape?
I'm a pretty active person; I'm always on the go. I drink a lot of water – it speeds up your metabolism, makes everything run smoothly, and it makes your skin glow. I love yoga, and I love circuit training where you can do five exercises, 15-20 reps of each exercise, and I do it five times in a row – it only takes twenty minutes, and you can do it anywhere. You feel instantly better.
Is that a routine that you've learnt yourself, or do you have a trainer?
If I'm in LA and have time, I love going to the gym and I work with different trainers, so it's something I've just picked up. But a lot of the time I'm on location or living out of a suitcase, so I don't have time to go the gym. So basically all I do is sit-ups, push-ups and jumping jacks (or star-jumps as you call them!) lunges and the plank, and you repeat it five times.
What about your diet – are you very healthy?
I live a healthy lifestyle and I crave healthy food. I love porridge, I have bizarre cravings for it. I love it with brown sugar and bananas, and I'm a huge fan of cinnamon – I put cinnamon on everything. I also have a sweet tooth and I don't like to deprive myself. I think everything in moderation is the key.
What about lunch and dinner?
It depends – I love salmon and beetroot salads, but any kind of grilled fish with veggies is amazing.
Jessica Lowndes is the face of the new Lipsy London Glam fragrance. £25 for 50ml and is available at lipsy.co.uk and in Lipsy and Boots stores nationwide.