A Mother's Nightmare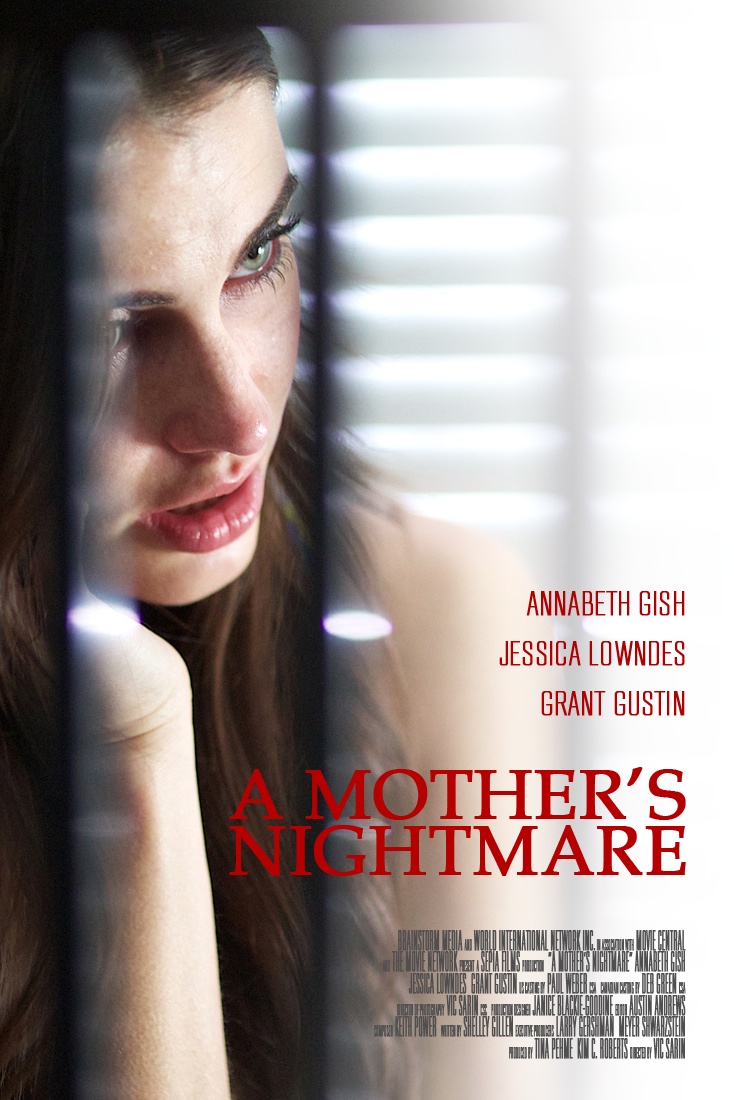 Starring: Jessica Lowndes, Annabeth Gish, Grant Gustin, Burkely Duffield, Jay Brazeau, Cainan Wiebe, Samuel Patrick Chu
Director(s): Vic Sarin
Producer(s): John Bolton, Larry Gershman, Tina Pehme, Kim Roberts, Meyer Shwarzstein
Editor(s): Austin Andrews
Writer(s): Shelley Gillen
Studio: Sepia Films
Channel: Lifetime Movie Network
Run Date: September 29, 2012
Genre(s): Thriller
Madeleine (MADDIE) Stewart welcomes her sixteen-year-old CHRIS' new girlfriend, VANESSA, into her home. Maddie is delighted to see Chris smile again, after the tumble he took with his first high school broken heart. Vanessa is outgoing and pretty, if a bit vampy, and she appears to be every bit as enthralled with Chris as he is with her. Chris and Maddie meet Vanessa the day she moves into their neighbourhood; it's a day they will soon regret.
The mercurial Vanessa targets Chris at school and vows to make him her own. She plays nice to Maddie until Maddie challenges her insatiable demand for unlimited access to the object of her affection. Then the battle for Chris' loyalty begins. Vanessa sets out to destroy Maddie's hold on Chris by manipulating the sensitive and vulnerable teen to see his mother through her jaded eyes. She keeps Chris out at night and introduces him to the allure of sex and alcohol. Vanessa is nearly two years older than Chris. The unwanted daughter of a stripper and a life-long foster child from the tough side of town, she is now motivated by a fear of abandonment bordering on psychosis. She deftly fuels a rapidly growing anger and rebelliousness in Chris toward Maddie, using sex as her currency and weapon of choice.
Chris, at all times, must be with Vanessa or talking, texting or chatting with her online. When his grades plummet and he's thrown off his beloved track team, Chris finally comes to Maddie for help. Maddie convinces him it's time to take his life back from Vanessa. But Vanessa ups the ante, concocting a story, designed to make Chris feel sorry for her. When her plan backfires and Chris, instead, attempts to break it off with her, Vanessa becomes unhinged. She files false accusations with the police and posts terrible lies about Chris on the internet. The internet gossip spreads like wildfire, alienating Chris from his high school and his friends.
Vanessa rounds up other aimless teens to relentlessly harass Chris with phone calls and threatening email messages, until Chris can't take it anymore and wants to move. Maddie is outraged and appeals to Chris' school principal and the police for help, both with no avail. Vanessa feigns her innocence and Chris is ultimately beaten and hospitalized.
Through it all, Vanessa wants Chris back. When everything else fails to make Chris love her again, Vanessa hatches her final plan to reunite the two of them. Relying on nobody but herself, Maddie must now save her son, or live the rest of her life without him.