Playboy.com Femme on Fire: Jessica Lowndes
Posted on November 18, 2012 in Fashion, Interviews, Style, Online, Press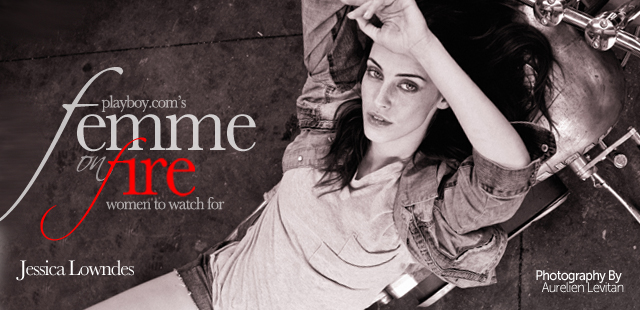 Known for launching the careers of now-household names Luke Perry, Jenny Garth and Shannen Doherty, for over 20 years the 90210 franchise has been the epitome of young adulthood—from sex and drugs to alcohol and abortion. While the crazy storylines will often give you a run for your money, the women of 90210 have been, and most certainly still are, the main draw to keep tuning into the series, currently airing on The CW; this week's Femme on Fire, the gorgeous vixen Jessica Lowndes, is a perfect example.
We sat down to chat with Lowndes on her role as the complex but talented songstress Adrianna, taking on the stripper pole challenge and performing on the Hollywood Bowl stage.
Playboy.com: So you're on set today?
Lowndes: I'm currently on my way to set. It's a night shoot tonight, so it's going to be exciting.
Playboy.com: That sounds fun; anything you can tell us?
Lowndes: I'm singing "The Star-Spangled Banner" in a very interesting way…that's all I'm allowed to say. [laughs]
Playboy.com: Tell us about your character, Adrianna.
Lowndes: She's come through a lot. She went through a drug addiction, had a baby, she had a lesbian love story for a few episodes. The past few years she's been trying to become a star [singer] and has experimented with a bunch of different types of music and done a lot of unethical things. But she's spent some time trying to prove herself, and now she's doing music for the right reasons. She found herself in [the current] season five. Now she's in a love triangle…[laughs] In the season opener she finds out her boyfriend was in a car accident right before she performs before Carly Rae Jepson…and that follows right after she did something in Vegas with another guy.
Playboy.com: 90210 drama can really get crazy; was it a shock coming into this role?
Lowndes: It's been an awesome journey. I was [only] supposed to be in the first two episodes, and I just was so excited that I could pay my rent! Then I moved down to L.A. from Canada and finally have work and sing on TV. It turned into so much more; I'm still pinching myself.
Playboy.com: You're performing at the Hollywood Bowl alongside Ne-Yo in an episode later this month (pictured); what was that like?
Lowndes: It was so surreal. I'm obviously a big music fan, and I've gone to so many concerts there—it's such an iconic venue. To be on the opposite side, onstage looking out, was so much fun. [laughs] Meeting Ne-Yo was so cool; he's such a great dancer and performer and definitely an inspiration.
Playboy.com: As you mentioned, your character has gone through a number of challenges over the seasons. What has been the most difficult for you to portray?
Lowndes: All of it has its challenges, because they've been out of my comfort zone and personal life experience. The hardest thing, though, was after season three, after she took a dark tone and became a stranger—swapped out Silver's [Jessica Stroup] pills for placebos—and really unlikable. I had to win back the viewers' trust; everyone hated Adrianna. Last season I had to spend redeeming her—I think we've gotten there. But who knows, now she's cheating on Dixon [Tristan Wilds]…it's hard when the storylines go down that darker path.
Playboy.com: You had a fun pole dance scene recently (below). What was that like to film?
Lowndes: It was so much fun; I got to take pole dancing lessons! What girl doesn't want to do that? I have a whole newfound respect for strippers—they make it look so easy, but it's actually so hard, [laughs] it's a workout. The scene came out pretty sexy. Balancing in those heels is hard, and also [you can't] wear lotion or else you slip down that pole. It's like grease on your legs. I really enjoyed it. When I walked into the first lesson, I was like, "There's no way I'm going to be able to swing on that." Then at the end of the class I was swinging and doing all that stuff. [laughs]
Playboy.com: What has been your most challenging role in film and television so far?
Lowndes: They've all been challenging in their own way. Any character that requires a lot of emotional range and crying—it's emotionally taxing. I love it, but it's hard, as your body doesn't know that you're acting!
Playboy.com: Your hit song "Falling in Love" with Ironik did extremely well, and you're regularly singing on the show; what are your mainstream music plans at the moment?
Lowndes: I've been doing a lot of recording and writing recently. This season there is so much more music; you got to hear "Snake Charmer" (above) a couple weeks ago. Whenever I'm not filming I'm in the studio recording. I released an EP earlier this year called Nothing Like This, so right now I'm sitting on all this music and I can't wait for everybody to hear it. I have new music coming out the beginning of next year!
Playboy.com: Tell us about your role in The Devil's Carnival.
Lowndes: It's super cool. It's almost like an art piece. Three people who have died find themselves in this carnival—so over-the-top 1950's style—and whatever your sin is on earth is what you're doomed to repeat. The carnival is in fact hell and the devil is the ringmaster. My character was extremely trusting…it ends up being her ultimate demise. [laughs] It's also a musical! Very artsy and cool—an operatic horror!
Playboy.com: Lightning Round. What is your favorite:
City: This is a hard one—Vancouver, because it's my hometown. But London, because I've spent some time there—I love the people, the culture, the red telephone booths on the side of the street and the accents, of course. [laughs]
Drink: Coffee—I'm kind of addicted. Starbucks Grande Americano with half-and-half cream, it's kind of my jam. Maybe mix it up during the holidays with a Pumpkin Spice or Gingerbread Latte.
Food: I'm addicted to oatmeal; if I don't have it I'm off my game.
Dessert: Red velvet cake.
Shot: Tequila, [laughs] Don Julio and Patrón.
Embarrassing moment: There's one going around the internet so I'm not going to say any more! But I choked on a piece of gum and threw up on my crush's face when I was 13…mortifying, that's social suicide. He leaned over to see if I was okay and…mortifying.
Guilty Pleasure: Reality shows: The Bachelor and Bachelorette—I'm a hopeless romantic and still believe in the dream.
Dream Ride: I just got a new Audi A5 convertible—it's like butter on the street, my new baby.
Awkward Pickup Line: "You kind of look like that girl from 90210…can I get your number?"
Playboy.com: What else do you have in the works for the hiatus?
Lowndes: Last year I did a Lifetime movie which did pretty well…as a sociopath, which was fun! This year I'm auditioning, but I'll go headfirst into the music scene.
Playboy.com: What was your first Playboy?
Lowndes: [Laughs] I don't remember the first time with the magazine, but my first time at the Playboy Mansion was episode 100! It was so magical. It's like Disneyland for adults…and I'm addicted to Disneyland.
Playboy.com: Did you meet Hef?
Lowndes: I didn't, sadly; I'm obsessed with him, so maybe one day. He's adorable.
90210 airs Mondays at 8/7c on The CW. Follow Jessica on Twitter @JessicaLowndes.
http://www.playboy.com/playground/view/femme-on-fire-jessica-lowndes