Jessica Lowndes Shares Bracelets that Fight Cancer and MS
Posted on June 11, 2012 in News, Events, Online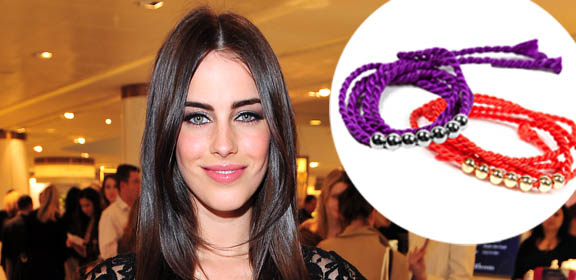 This is a big time for fighting cancer. On Saturday the finalists of "America's Best Dance Crew" took part in the cancer-fighting Relay for Life in Los Angeles. Singer and actress Jessica Lowndes wanted to do her share to help people in the face of illness, so she pointed us to a place where you can buy pretty jewelry AND raise funds for charities dealing with cancer and multiple sclerosis.
Jess tweeted the following helpful little tidbit:
#FF @CJFreeJewelry - Please support this beautiful new charity and their efforts to raise money to fight breast cancer and MS.
— Jessica Lowndes (@jessicalowndes) June 8, 2012
So here's the scoop: CJ Free Jewelry is designed by Holly Freeman and Jamie-Lynn Sigler from "The Sopranos." They offer necklaces, bracelets and rings and everything there is bead-tastic. No, seriously, they concentrate on bead work.
If you go to their website, the charity part isn't obvious right away (don't worry, we'll supply you with direct links). But if you go to the main site, you can click on "Collections" and then you'll see "Charity" offered. You have some different beaded bracelets to choose from. The first, which is purple, gives a portion of its earnings over to the American Cancer Society. Next up we have an orange beaded bracelet that's fighting to "erase MS" and this time around the money will go to the Nancy Davis Foundation for MS. In both cases, 20% of the proceeds will go to charity.
These bracelets are simple in design, but what they're aiming to do is super important. If you buy these bracelets, you're making one cool fashion statement: you're wearing jewelry that helps other people.